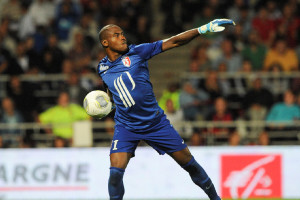 Looping the 55th minute of the match against Olympic Marseille without taking goals, the Nigerian goalkeeper Vincent Enyeama of LOSC has reached the 1,000 minutes without conceding this season in Ligue 1. And he even did better. As he finished the game clean sheets, allowing his team to win the three match points on a late goal by Nolan Roux.
He outclassed Salvatore Sirigu (949 minutes) and Jean -Luc Ettori ( 899 minutes ) . Enyeama is now at 1035 minutes without conceding. He is just 142 minutes from the record of Gaetan Huard in 92/93 with Bordeaux. A city in which the Mastiffs play next weekend in Ligue 1. He then has to keep some extra 141 minutes or 1 game and a half without conceding to become a recordman.
Enyeama this season stopped 33 shots on goal. He is simply impassable this season. That's just why he attracts the praises of other major goalies.
"I do not care. Whether two or fifty matches. I do not play for statistics but to get results with my club. I want to continue on this ambition, make sure to make it happen. All these praises are not in my head," he says.