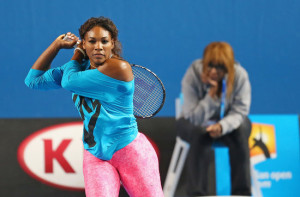 American female tennis World No.1 Serena Williams has recently revealed that her appearance on tennis courts is an exact reflection of her real character as it is always the right place for her to prove her love for fashion and design.
17 Grand Slam champion cautioned fans not to think that her craziness about style can lead her to a sudden career-switching. She moreover admitted her designers at Nike are very kind and respect her a lot.
"The team at Nike are amazing. We work closely together on the designs and colours of my on-court outfits. They know me and understand my needs and know I love to mix up and clash colours. They understand my love of classic lines and work with my shape. My look on the court is very much who I am. It's one avenue where I can express my love of fashion and love of design," Serena commented.