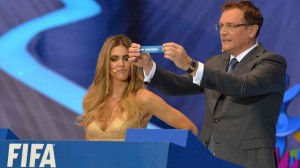 The draw for the 2014 World Cup has been made in Brazil. And it is Ghana which is housed in the worse group alongside Germany which stopped them in the 2010 World Cup in South Africa ( 0-1) , Portugal of Cristiano Ronaldo and the United States.
Algeria is doing pretty well with Belgium, Russia and South Korea. The Desert Foxes will still have to be done.
Côte d' Ivoire will have to challenge Japan, Colombia of Falcao and Greece.
Cameroon will have to overcome Brazil, Croatia and Mexico in Group A;
Finally Nigeria will enjoy a group stage clashing Argentina, Bosnia – Herzegovina and Iran .
France is doing very well with the Switzerland, Ecuador and Honduras.
All groups
Group A: Brazil, Croatia, Mexico, Cameroon
Group B : Spain, Netherlands , Chile, Australia
Group C: Colombia, Greece, Ivory Coast, Japan
Group D: Uruguay, Costa Rica, England, Italy
Group E: Switzerland, Ecuador, France, Honduras
Group F: Argentina, Bosnia and Herzegovina, Iran, Nigeria
Group G: Germany, Portugal, Ghana, United States
Group H: Belgium, Algeria, Russia, South Korea