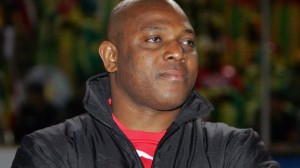 Stephen Keshi becomes the first Nigerian coach to be given the privilege to choose his side's base camp ahead of a World Cup.
The former coach of Togo and Mali did not hide his pride over the historical opportunity offered to him.
"I am happy to have been given the free hand to select the team base camp," Keshi said.
"You may think it is a small gesture but not every head coach has that privilege. I am certainly going to use the opportunity to select the best for our team."

Keshi's Nigeria is drawn in group F on Friday to challenge Iran, Bosnia-Herzegovina and Argentina winner of the trophy two times (in 1978 and 1986).
Here is a statement from NFF member Ademola confirming the report.
"(Stephen) Keshi is presently inspecting a number of possible camps in the South American nation, and specifically around Sao Paulo," Olajire said.