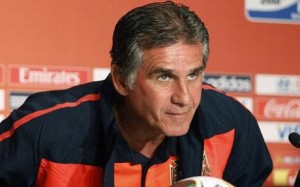 The Portuguese manager of Iran Carlos Queiroz has released his concern on the consideration of all the 32 teams qualified for the 2014 World Cup Brazil following the final draw made in Brazil Friday.
Queiroz is talking according to the group in which his side has been housed for the competition. Being drawn to challenge Bosnia-Herzegovina, Nigeria and Argentina in group F, coach Queiroz admits the quality of game his opponents but says it will not normal if anybody declares any team out race ahead of the prestigious mass competition.
"Playing in the World Cup is an opportunity for every participating team, and based on this, it will be wrong for anybody to write off any team," he said.
Coach Stephen Keshi of Nigeria already stated in an interview that no team is small at the World Cup.