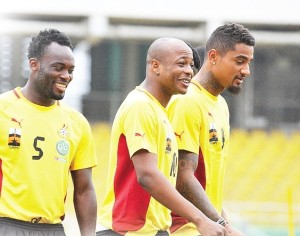 After the 2014 Brazil World Cup final draw known on Friday, African countries involved start thinking of how to get their best preparations in order to overcome group opponents.
As training camps are expected to provide teams with decisive preparations, Ghana FA just scheduled the Black Stars World Cup camping to kick off on May 25 and end up on June 11.
GFA warrants the choice of this date to be respectful to the end of major European leagues where Ghana counts most of their stars.
The camp base and international friendlies' opponents are said to be known early next year.
"We will be discussing with a number of match organizers and agents; probable opponents we will be playing during the preparation period, " Ghana FA president Kwesi  Nyantakyi revealed.
"We will also be looking at possible venues for our preparations; the incentive or package for the team; issues of psychology, physiotherapy, medical issues to make our team is fully prepared for this World Cup competition. "
Nigeria Football Federation has given Stephen Keshi the free hand to choose base camp.