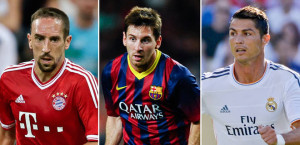 Reigning world best player Lionel Messi, Cristiano Ronaldo and Franck Ribery have been shortlisted as the greatest favorites for the 2013 Ballon d'Or award.
Messi, winner of the award four times in a row, has been threatened by a recurring knee injury for much of this year after netting 46 times for Barcelona last term.
Real Madrid's Cristiano, winner of the trophy in 2008 is the greatest favorite likely to be bestowed the award in Germany after scoring 32 goals in just 22 appearances for club and national team.
French international midfielder of Bayern Munich Ribery has been majorly influential in his German side's historical treble of the Bundesliga, Champions League and DFB-Pokal titles in 2012-13.
The three superstars have been voted by international managers, captains and a selection of journalists from around the world.
The winner of the 2013 award is expected to be revealed on January 13 in Zurich, Germany.