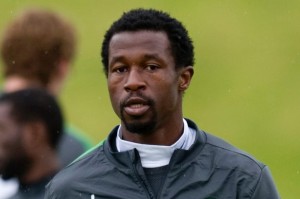 Defender Efe Ambrose of the Super Eagles of Nigeria thinks it is high time Africa won the World Cup.
The Scottish Premiership Celtic FC centre back believes everything is possible in football as Africa teams include some of the world's greatest players who prove good in major European clubs.
Ambrose therefore expects one of the five African nations (Nigeria, Ghana, Côte d'Ivoire, Cameroon and Algeria) who happened to seal berth in the Brazil World Cup to bring home the trophy of the world's most prestigious football competition.
"In football everything is possible, and it's time for Africa to step up. Nobody knows, maybe it's time for Africa to win the World Cup," Ambrose told Celtic's official website.