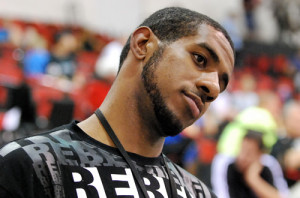 The NBA released Monday the names of the players who marked the regular season last week.
In the West, the player of the week is awarded to LaMarcus Aldridge. Blazers All Star interior wins the trophy for the third time in four weeks!
Over the period, for this new title of player of the week, Aldridge made blackened copies averaging 25.5 points, 14.8 rebounds, 3.3 assists and 1.5 cons per game. He is the first Portland player since Clyde Drexler in 1990 to win three times in the same season the player of the week trophy.
In the East the title went to Kyrie Irving of the Cleveland Cavaliers who turned 29 points, 6.3 assists and 2.3 steals per game.