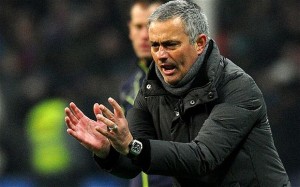 Chelsea is certainly not the last of the English Premier League. But they are not as good as in the past, especially in the time of first era of Jose Mourinho during the 2004-2007 season. Despite a staff of high quality offensive players, the Blues do not score many goals but concede goals. Tuesday night, they have also sent out of Capital One Cup by a modest training of Sunderland, the last in the championship. Many situations seriously began to displease the Portuguese coach of the Blues who wants to change a number of things.
"Maybe the way to rectify this is to have a different approach and not concede goals. When you do not score enough and you're an offensive team, the best approach might be to be more defensive, to concede fewer goals and win games with the little goals you score .This is not actually what I want. This is not what I had in mind to build this team. We want to play, but we need to score to get rid of our foe," he said in remarks relayed by the London Evening Standard.
Known for his very defensive game, Mourinho thinks back to such a strategy with Chelsea. A game less exciting and impressive, but more effective.
"It would be frustrating to have to step back and change the way we play, to be more defensive and play a counter-attack to win by one goal. This is not what I want to do, but I'm starting to think seriously," said The Special One.
It is therefore possible that in the coming days we see a Chelsea folded behind to leave their opponent play alone. This system had worked with Mourinho. But will he do the same today?