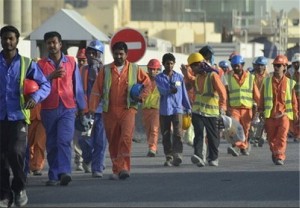 Qatar is still and always monitored by trade unions and human rights with regards to the treatment of migrant workers especially on projects related to the organization of the 2022 World Cup. This time it is Amnesty International, which draws attention to the cases of dozens of workers left unpaid for nearly a year by their employer and who are struggling to feed themselves.
In a statement released Wednesday, the organization of human rights called the Qatari authorities to find a solution to this "critical situation" involving the 80 construction workers of different nationalities, mostly Nepalese, working on behalf of company Lee Trading and Contracting (LTC).
These workers have just completed the building of the 38 and 39th floors of a tower called Al- Bidda Tower, which houses the offices of several organizations related to football. But they have no money for food and send home. Dissatisfied, they tried to complain but the tribunal labor law demanded 165 dollars from each one of them. An amount they could not afford.
"It's been over a month since we visited the men and found their despair but their ordeal has not ended," lamented the head of Amnesty in the statement.
"It's a shame to see that one of the richest countries in the world leaves workers at risk of starvation," he added.
Qatar for some time now has been subjected to fire criticism on the working conditions of immigrants. Several organizations of human rights, including the International CSI union have already made outputs to denounce the mistreatment of migrant workers.
On December 2, the CSI held a minute of silence in Doha for the 30 Indian and Nepalese workers who die every month in the Asian country.