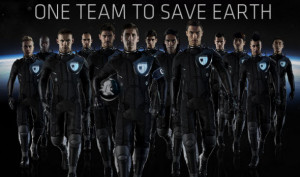 The casting is impressive. Cristiano Ronaldo, Lionel Messi, Andres Iniesta, Iker Casillas, Stephan El Sharaawy are some of the names that figured in Samsung's new ad.
The mobile giants launch in December their new jewel: the Galaxy 11. Yet occasionally, they did not skimp on resources.
Among these stars, is an African champion. Victor Moses, the Liverpool striker on loan from Chelsea offers his services to counter the aliens' invasion on earth. All orchestrated by coach Franz Beckenbauer.
For lovers of sci-fi, you're served!
[youtube]http://www.youtube.com/watch?v=EC-zB2aSXXM[/youtube]