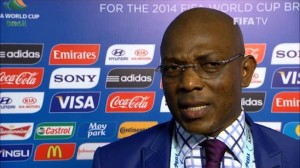 Africa Top Sports reported a few weeks ago that, Stephen Keshi has been given a free hand to select a Word Cup camp base for his African champions. As a result a training camp in the United States is not bad idea for Keshi.
" I suggested that we set up our camp in the United States because at the time to start our training phase, the time will be the same as in Brazil," the Super Eagles manager explained.
" There are several American cities that experience high temperatures such as in Brazil and Sao Paulo as well" , he has said before adding that he will choose between Miami and Houston, which have a strong Nigerian community – because they probably offer the same weather conditions as Sao Paulo, the base camp of Eagles during the World Tournament to be run from June 12 to July 13, 2014.
Leaders of Nigerian football had previously floated the idea of training in Argentina, Colombia or the United States.
Nigeria plans to start their pre- World Cup training camp on May 25 and Japan should be one of the opponents of Nigeria in a friendly fixture part of the preparations for Brazil.
Nigeria will face in Group F Argentina, Bosnia – Herzegovina and Iran.