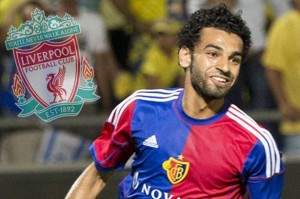 Tracked by Chelsea, Tottenham, Bayern Munich, Manchester United, Inter Milan, Juventus and Monaco, Mohamed Salah, except a disaster will get committed with the Reds of Liverpool during the next winter transfer window.
There remain just a few details to finalize the issue. A source very close to the player says confirms the agreement would be 99%.
"Yes, I'm 99% sure it's going to be" said a relative of the player .
Information confirmed by the Daily Mail
It is the coach of the current leader of the Premier League, Brendan Rodgers who has personally supervised the player during the defeat of the Swiss in the field of Schalke 04 counting for the final day of group matches of the Champions League.
Negotiations stumbled on the transfer amount. The club of northern England propose an offer of 14 million Euros to Basel. The latter would demand 18 to let go the players that was voted best player of the Swiss championship.