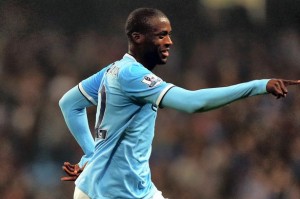 Yaya Touré is inescapable this season. The Ivorian midfielder still assures with his club Manchester City. And since the start of the year, the former Barcelona has added a new range to his game.
Touré puts free-kicks in the adversaries' goals whenever he kicks and each time, the achievement is beautiful. Thanks to a new kick off this Saturday and a goal from Vincent Kompany, Yaya allows Citizens to go to the break with a 2-0 lead ahead of Fulham.
This is the 4th goal on free kick by Yaya Toure this season. And his 9th goal of the season.
[dailymotion]http://www.dailymotion.com/video/x18ota3_yaya-toure-goal-0-1-fulham-vs-manchester-city_sport[/dailymotion]