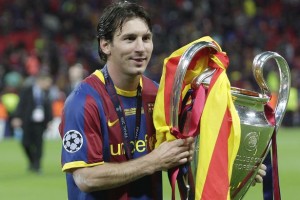 Last week, Lionel Messi had categorically denied rumors that he demanded a new contract with FC Barcelona, attacking even the vice-president of the club, Javier Faus, who had expressed, on December 10, his skepticism to see the contract of the Argentine revised upwards every six months.
But surprisingly, the Blaugrana star is set to sign a new lease with Barca for the seventh time in his career since 2005, when he penned his first pro contract. This is what reported the Madrid daily AS.
According to the latter, Messi and his surrounding will meet with Sandro Rosell (FC Barcelona president) upon his return from Argentina to revise upward their recent contract signed last February. Rumors indicate that the player will be extended until 2018, with an out clause of € 250 million.
If this happens, it will not surprise anybody. Since Sandro Rosell said last week that Messi is the "best player in the world" , and should therefore be " the top paid in the world."
This will disappoint a bit Javier Faus .