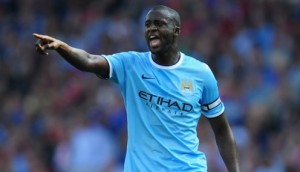 Yaya Touré is on another planet since the beginning of the season. The Ivorian international has yet made people talk about him last weekend in the Premier League.
On a free kick perfectly put into the corner of the net, the midfielder opened the scoring at Fulham (4-2) and scored his 9th goal of the season. The Elephant of Ivory Coast has become almost the handyman for City. Centerpiece of Citizens since his arrival in 2010, Yaya Touré is undoubtedly one of the best midfielders in the world today.
Qualified with Skyblues for the next round of the Champions League, the youngest of the Touré brothers will meet FC Barcelona in the knockout stages. The Ivorian is eager to battle with his former club. Through the micro of BeIN Sport, Touré has not forgotten his time at the Blaugrana.
"It's true that I wanted to meet Barca. It was three exceptional years; I won a lot of trophies there. I saw people who really framed me, players like Xavi, Iniesta, Eto'o, Thuram , Abidal , Henry … " he said before highlighting the special relationship he has with this club. "When I arrived in 2007, it was quite complicated. But I 've always been someone who loves the challenge ( …) It gave me the desire to go to Barcelona , it was the presence of players like Lilian (Thuram), Samuel (Eto'o) … It was a way to pass a course . "