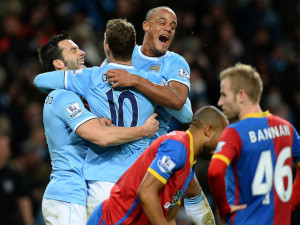 Manchester City will not stop. As in the Boxing Day City with Kompany but without Yaya Toure allowed spatred, struggled at home but finally edged Crystal Palace.
The Citizens had the opportunity to take for the first time since the first day, the lead of the Premier League. It's done. They temporarily take the lead until the Arsenal match in Newcastle on Sunday. Manuel Pellegrini's men have emerged, in pain, 0-1 against the teammates of Marouane Chamakh.
A very laborious victory with a first half far from being satisfactory and a second much more interesting. It took until the 66th minute to finally see the opener of Citizens through Edin Dzeko. The Skyblues have registered 54 goals since the start of the season in the league.
This is the first time that a Premier League team reaches this total of goals during the first 19 games of the season.