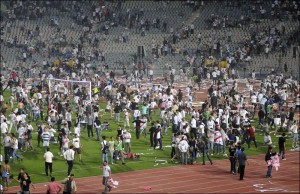 Tunisia have not ended the violence in their stadiums. Sunday match of the 11th day of Ligue 1 was suspended after the brawl of fans, causing several injuries.
Tozeur supporters invaded the pitch and threw stones at the police in the middle of the match, which was suspended. La Marsa (4th ranking) led 1-0 against Tozeur. The clashes did not lead to serious injuries.
According to witnesses, police fired tear gas to disperse angry supporters.
After the revolution of January 2011, the games were played behind closed doors to avoid violence, until the recent return of the public on stadiums.