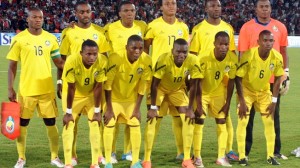 The various teams qualified for the 2014 CHAN are sharpening their weapons. After the selection of South Africa, Mauritania and Congo revealed, here is that of Mozambique. Coach Joao Chissano decided to make a mix of youth and experience.
Dario Khan, Miro, and Gabito Alvarito are among the experienced players in the group of the Mambas. Liga Muçulmana, champion of Mozambique and Costa do Sol offer 5 players each.
Mozambique is in Group A with South Africa, Mali and Nigeria.
Goalkeepers: Pinto ( Ferroviario Maputo ) , Victor ( Desportivo de Nacala ) Soarito (HCB Songo )
Defenders: João Mazive Dario Khan, Dito ( Costa do Sol ) , Chico II , Miro (Liga Muçulmana ) Chico I ( Ferroviario Maputo ) Gabito ( Maxaquene )
Midfielders: Josemar , Imo (Liga Muçulmana ) Alvarito ( Costa do Sol ) , Diogo ( Ferroviario Maputo ) , Kito ( Maxaquene ) Nelito ( Ferroviario da Beira ) Lanito ( Desportivo Maputo )
Forwards: Sonito (Liga Muçulmana ) Manuelito II ( Costa do Sol ) , Isac ( Maxaquene ) Maninho , Mario ( Ferroviario da Beira ) Belito ( Ferroviario Nampula )