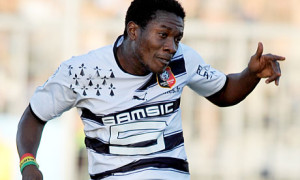 Drawn up to face Portugal, Germany and the USA in the next Brazil World Cup group stage, here are statistics that prove that Ghana is a side as strong as Portugal and Germany and is endowed with world class players evolving in the leading clubs in the world.
Ghana's captain, striker Asamoah Gyan's performance of the year is enough to warn World cup opponents.
The United Arab Emirates-based forward of Black Stars seals a convincing berth in the world's ten top scorers.
If he ranks sixth in the whole world, only Cristiano Ronaldo (69), Zlatan Ibrahimovic (47), Lionel Messi (45), Luis Suarez (42) and Edinson Cavani (41) scored more than the Al Ain player.
Gyan became the first ever to have topped a sealing of 70 achievements after two-and-half seasons in the UAE Arabian Gulf League.
The player has already expressed no bit of fear for any team ahead of Brazil 2014.
Check out the World's top 10 scorers with goals for both country and club
1. Cristiano Ronaldo (69)
2. Zlatan Ibrahimovic (47),
3. Lionel Messi (45),
4. Luis Suárez (42)
5. Edinson Cavani (41)
6. Asamoah Gyan (40)
7. Robert Lewandowski (39),
8. Alvaro Negredo (38),
9. Jonathan Soriano (37),
10. Diego Costa (36),