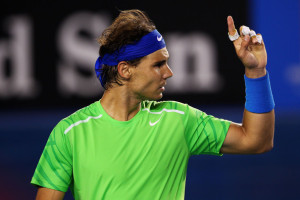 It took a total of 2:26 min were needed for world No.1 Rafael Nadal to beat Germany's Tobias Kamke only 74th at ATP, in the 2nd round of the tournament in Doha on Wednesday where Ferrer, Gasquet and Murray were eliminated.
"He played very well and he then prevented me from converting my many breaks" , acknowledged Nadal after his 6-3, 6-7 (3/ 7), 6-3 victory, synonymous of quarter final against Latvian Ernests Gulbis. "I do not even want to  talk of victory, we are in the quarterfinals. I had a tough match yesterday and today too. But I am pleased with the public support since last year I had not been there because of injuries," added Nadal.
In fact, Nadal, 27, has paid a high price for his early game rather easy. If Kamke , 27, has a good forehand and hit all the balls hard, Nadal was probably a bit distracted after taking the initial set with a very efficient service: 78% of first serve, 76% of points and above 83 % success on his second set. suddenly, the man with 13 Grand Slam trophies was a little left asleep and woke up at 4-1 in favor of Kamke. If he managed to equalize at 4-4, 5-5 and 6-6, he was non-existent during the decisive game logically won by the German after 1:08 tiebreak!
If Nadal has honored his rank, even in difficulty, Britain's Andy Murray, the world No.4 has already left the tournament, after suffering a defeat against German Florian Mayer, winning 3-6, 6-4 6-2 . "It's incredible! To be honest, the game was already over in my head. I do not know how I managed to recover ", responded Mayer referring to the fact that Murray, winner of the last Wimbledon, led a set to nil and 3-0 in the second. Andy Murray was playing only his second match after four months of absence due to back surgery. "I played pretty well and was moving at first, but my lack of competition has been felt then. I 'm still happy though I have lost two games (including one exhibition in Abu Dhabi) but everything went well, and there was no injury," analyzed Murray.
For his part, Spain's David Ferrer, No.3, also collapsed (6-4, 7-5) against German Daniel Brands, only 54th worldwide. Just as the French Richard Gasquet, N.9 and defending champion, who has never been able to make a totally dominated game against his compatriot Gaël Monfils, winner in two sets 6-2, 7-5.