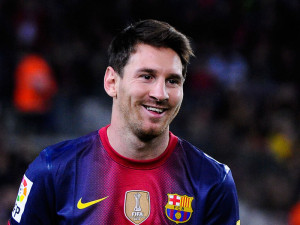 Lionel Messi, the Argentine striker of FC Barcelona, who was injured for six weeks, was able to be back from Argentina, where he spent a month, and today Thursday, he will resume training with his teammates of FC Barcelona.
He has just revealed "On January 2, I will join the group to start training with everyone, this is what I need. Then we'll see when I'm fit enough to replay."
Remains to know whether 2014 will be his year again? He seems completely recovered from his left thigh injury that occurred in mid -November. He did not however fail to vow: "I demand a 2014 season without injuries!"
Will he happen to win the next World Cup in Brazil with Argentina? This is the only title missing from his career!
Will Lionel Messi be bestowed a fifth Ballon d'Or on January 13 in Zurich (Switzerland)? He is really far from being crowned this year. Ronaldo is the top favorite for the most prestigious award in football…
Will he take a risk of accepting a golden transfer at 27 years? PSG would be ready to cash 250 million Euros on the table to get him, even Zlatan dreams of it!
"Messi ? If he is on the market, there will be the world over, not just the PSG. I do not know the situation but I think he is very happy in Barcelona. Media event stories but only he knows the reality. The project of PSG is to 'dream bigger'. But if you enroll Messi, you're not dreaming bigger, you're bigger. "
But the question is, Messi is still worth this price? And does he remain the living God of World football?
Drop your comment below please!