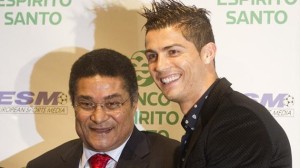 "Euseubio, eternal forever. Rest in peace! "
Cristiano Ronaldo was quick to pay tribute to the Portuguese star Euseubio, who died Sunday after suffering a cardiac arrest. He was 71 years old. He had won the Ballon d'Or in 1965.
He had been hospitalized several times for various health problems including a stroke (CVA).
He was born in Mozambique, then a Portuguese colony.
Euseubio remain attached to the heyday glory of Benfica Lisbon – he was prevented by the authoritarian regime of Antonio Salazar to engage with a foreign club –
He won therin the Champions Cup in 1962 against Real Madrid of Di Stefano, 11 league titles and four cups of Portugal.
With the Portuguese national team, he reached the third place in the 1966 World Cup, after which he finished top scorer of the edition with nine goals.
It is Pedra Pauleta who beat his record of 41 goals in 64 matches for " Selecção " in 2005.
The emotion is strong throughout the world today.