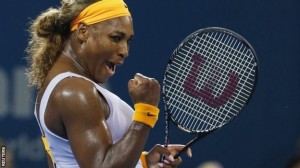 58th tournament won by Serena Williams. After his victory in the semifinals against Maria Sharapova Friday the world No. 1 retained her title at the WTA tournament in Brisbane on Saturday. She edged Victoria Azarenka (No. 2 worldwide) 6-4, 7-5 after a tight match that lasted just over 1:30.
"This is a great test. This shows my level. There are things I want to improve and I need to improve if I want to win in Melbourne " she said at the end of the meeting.
"I'm glad to have played against Maria (Sharapova) and Victoria (Azarenka) as they all played at their best against me. I know what I must do clinch Melbourne. I look forward to it. If I will have to play Victoria in the final (in Melbourne), if I happen to reach the final, it is going to be a new game. Extremely new," has she continued , dismissing any psychological edge over Azarenka , against whom she has yet signed her 14th victory over 17 games .
Serena Williams is in pretty good shape and is likely to see a 2014 season smiling at her. During the tournament in Brisbane, she has not lost a single set in four matches where she met also Azarenka , Andrea Petkovic , Dominika Cibulkova as well as the World No.4 Maria Sharapova.