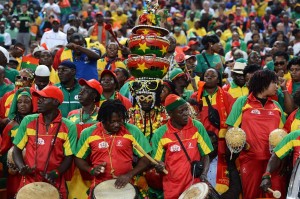 The African Nations Cup 2014 is approaching fast. All sides are sharpening their weapons. 5 of them are already in the country of Nelson Mandela. Before flying, Burkina Faso their 23-man squad.
ASFA Yennenga club holds sway in the squad with 8 players. Etoile Filante of Ouagadougou will be represented by five players. Coach Brama Traore hopes to return home with the title. Especially continue in same momentum as that of the UEMOA Trophy they won last November in Abidjan.
At CHAN, Burkina Faso is in Group B with Zimbabwe, Morocco and Uganda – discover the draw.
Goalkeepers: Mohamed Kabore ( ASFA -Y) , Laré Mohamed Diarra (Sonabel AS) , Abdul Kader Kobre (Majectic ) .
Defenders: Issouf Dayo ( EFO ) Ousséni Yeye ( USFA ) , N'Bah Koné ( RCB) , Alassane Sango (ASFA -Y) , Saïdou Simpore (RCK ) , Issa Guouo (Santos FC ) , Yaya Coulibaly (ASFA -Y ) .
Midfielders: Aboubacar Sidiki Barra ( EFO ) Elizee Demankel To (ASFA -Y) , Aliassou Sanou (AS Sonabel ) , Valentin Zoungrana ( EFO ), Eric Traoré ( USO) , Issouf Kaboré (EFO) , Aboubacar Sidiki Traoré (Santos FC ) Cyril Bayala Barros (ASFA -Y) , Umaru Nebie (ASFA -Y) .
Forwards: Ilias Tiendrebeogo (ASFA -Y) , Abubakar Nimi (EFO), Francis Kabore (Santos FC) Bassirou Ouedraogo (ASFA -Y) .