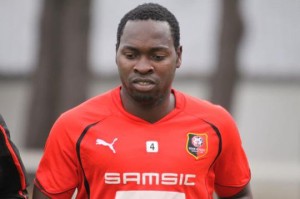 It is over between Onyekachi Apam and Stade Rennais. The Nigerian defender, hardly used, has terminated his contract with the Breton club Sunday. Regularly injured since his arrival, the former Nice could never really deliver.
He leaves without having played a single game since the beginning of the season. Since last summer, Rennes was trying to get rid of him.
Arrived in 2010 for 4.5 million Euros, Apam played only 31 games, collected seven yellow cards and 1 red.
Now a free agent, the Super Eagle will be able to find a new home base to rise.