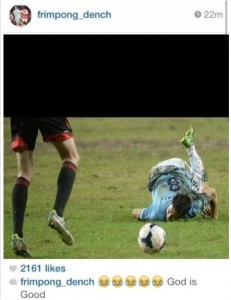 This is the buzz clash of the day.
It is signed by the Ghanaian, Emmanuel Frimpong, the Arsenal midfielder who always holds complicated ties with his former teammate Samir Nasri, the frenchy of Manchester City.
He just mocked on Instagram the Frenchman by putting a picture where we see the head of the latter in the lawn with the words: "God is Good".
The Ghanaian was quickly reprimanded by his friends undoubtedly. So, the photo was deleted, but here is it anyway!