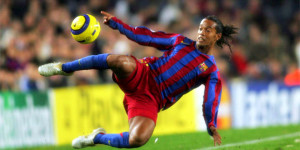 Besiktas who expressed interest in the service of Brazilian star Ronaldinho will find all troubles to enroll the Ateltico star. The Brazilian sets conditions for the Turkish club before talking of a successful transfer.
The former Barca could sign with Besiktas before the end of the transfer window, but the Brazilian striker, and his brother, who is also his agent; have every intention of seeing the Istanbul club pulling the plug on their requests.
According to Marca, the former PSG striker has compiled a list of ten requirements that Besiktas must comply with if they want to enjoy the services of Ronaldinho. While some of these applications are classic, others are a bit more original anyway, but what is certain is that the Turkish club have their head on the chopping block.
The requirements of Ronaldinho
– A salary 6 Million Euros per season
– A percentage of the sales of jerseys with his name
– The penalties for late payment of wages
– Bonuses related to objectives achieved and titles
– Seven tickets a year to travel to Brazil with his family
– A car with a driver and fuel support by the club
– Payment for the service staff in his house, which will obviously be funded by the club
– A telephone landline and mobile paid by Besiktas
– The possibility of being transferred after one year
– The right to keep and display personal sponsors