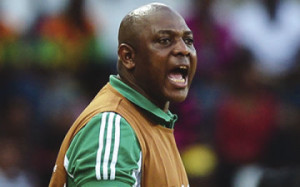 Currently in South Africa where the African Nations Championship 2014 will be held from Saturday January 11 to February 1, NFF (Nigeria Football Federation) expressed their heartfelt confidence in their African reigning champion coach Stephen Keshi set to direct home-based Eagles during the competition.
Though expectations are high for Nigerian team, NFF executive committee member Christopher Green says Keshi has nothing to prove and will surely shine in the Rainbow Nation.
"Keshi has done very well in the time he has, not only to qualify the team for the tournament, but in adapting to constant movement of players," Green said.
"But despite all of that, he is very determined to make an impact at the championship and our own is to support him all the way and not put pressure on him by giving him a target.
"Instead, I think the player should be trying to impress the coach enough to win a place on the World Cup team so they can challenge those who are there.
"If they do that, we will have better competition, and that will be of benefit to the country."
Eagles will clash Mali in their Chan 2014 opener.
Keshi is likely to be named "Coach of the Year" at the CAF Football Awards 2013 in Lagos tonight.