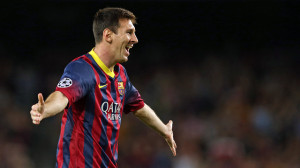 What a comeback! Lionel Messi, sidelined since Nov. 10 due to thigh injury rejoined lawns!
In a very late game, FC Barcelona inflicted a 4-0 loss to Getafe in the knockouts of the Spanish Cup. F.Fabregas  quickly put in a brace (in the 8th minute and 63rd minute).
And Lionel Messi, the Argentine striker of FC Barcelona, who remained on the bench in the first half time, got into the game in the 64th minute and scored a sumptuous brace within a minute (90th)!
The great Messi!
His last appearance dates as far back as to November 10 on the lawn of Real Betis (1-4). It's Iniesta who yielded his place to him.
Here's the video of the 4 goals!
[dailymotion]http://www.dailymotion.com/fr[/dailymotion]
[youtube]http://www.youtube.com/watch?v=XKwZRTS7MoM[/youtube]