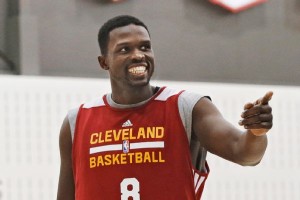 New recruit in the roster of the Cleveland Cavs, Luol Deng, who has explained his departure from the United Center, conducted his first practice with his new teammates Thursday. The British winger had his first session with number 8 on his jersey. But he will play his first game with the bib that has made him the fourth best scorer in the history of Bulls, that is number 9.
In tribute to his mother who had nine children, Luol Deng evolved with this number when he was in Chicago, but it was worn by Matthew Dellavedova in Cleveland. Traded by the franchise in Illinois with Andrew Bynum, the native of Wau had an agreement with the rookie after training. At the end of their talk he considers as "one of the hardest things" he "had to do," the All Star will play with his lucky number.
Mike Brown said he will be tenured Friday for his first game with the Cavs against the Utah of Jazz.