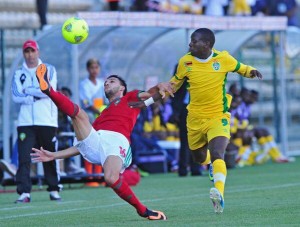 Second day at the African Nations Championship 2014 with the opening match of Group B teams. Morocco and Zimbabwe clashed today (Sunday). At the end of 90 minutes, no winner 0-0 could be detected.
Goalkeeper Nadir Lamyaghri designated man of the match reflects sufficiently the suffering of the Moroccan defense in this game. From the first half of the game, the Warriors raised the worries of the world to the Atlas Lions but the goal of the WAC holds good. On the other side, Iajour and Moutouali just out of World Club Cup with Raja Casablanca could not make the difference.
In the second half, the best actions took the side of Zimbabwe. Simba Sithole found the Lamyaghri bar at end of the game. But nothing could be marked up till end of regulation time.
The other match of the group opposes Uganda to Burkina Faso.
Here are the compositions
Morocco: Lamyaghri El Hashimi Achchakir , Oulhaj , Aberhoune , Erraki , Asbahi , Bahri , Karti , Moutaouali , Iajour .
Zimbabwe: Chigova , Zvirekwi , Chipeta , Jaure , Ncube, Ngoma Manhanga , Phiri, Mahachi Sithole, Sadiki