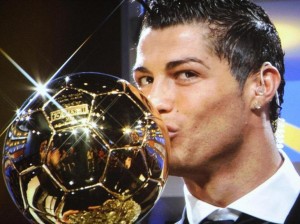 It's done and it's official. The Ballon d' Or 2013 is indeed Cristiano Ronaldo. The Real Madrid striker has just been crowned at the gala held Monday by FIFA in Zurich. This is the second Ballon d'Or obtained by the Portuguese after that of 2008. Despite his performance, Ronaldo had to wait 5 years to get crowned again.
A well deserved Ballon d'Or
The coronation of Ronaldo is not a coincidence, far from it. Although not winning any trophy in 2013, the Madrid striker has played his role as a key player in the field, in both club and country. By himself, he takes good hold of Real Madrid, sometimes giving the impression that the club can do nothing without him.
In statistics, Ronaldo has the most important in particular with regards the number of goals scored in 2013. The Portuguese scored 66 goals against 42 by Lionel Messi and 22 by Franck Ribery. A statistic that made him the top scorer in Europe this year and that has surely leaned in his favor.
Ronaldo also entails as regards the number of attempts before the goal. He attempted 296 strikes in the year making fifty eight more than Messi ( 146) and Ribéry (92 ).
The 15 days extension before the election to designate the Ballon d'Or also helped the Portuguese. It allowed the voting to take into account the benefit of Ronaldo in World Cup qualifier against Sweden of Zlatan Ibrahimovic. Two games in which the Portuguese was simply brilliant.
On 15 November 2013, during the first round, CR7 scored the winning goal (1-0) in Lisbon. On 19 November, in the return match in Stockholm, he put in a hat trick for a win (3-2), which ultimately lead Portugal to the World Cup. With these three goals, he tied the record for goals of the Selecao held by Pauleta (47 goals).
This is the incomparable performance that allowed the idol of Madrid to win this wonderful award.