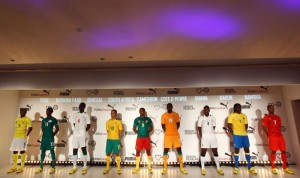 He makes the headlines of the international press this morning. He won his second Ballon d'Or coronation in Zurich Monday night. It is Cristiano Ronaldo, the Portuguese striker was crowned the Ballon d'Or 2013. The star of Real Madrid beat Lionel Messi and Franck Ribery. And Africa has voted.
Samuel Eto'o, Cameroon captain, voted in order for the Ivorian Yaya Toure, Lionel Messi and Eden Hazard, his new teammate at Chelsea. It is also the African Ballon d'Or 2013 that meant the first vote of Didier Drogba, teammate and leader of Côte d' Ivoire. Galatasaray striker then chose Lionel Messi and Cristiano Ronaldo.
Lamouchi voted for Ribery!
Seydou Keita, captain of the Eagles of Mali has found the winning trio but in the disorder. The former Barcelona player has chosen Franck Ribery, Ronaldo and Lionel Messi. Daniel Cousin of Gabon voted for Ronaldo, Ibrahimovic and Ribery. As for Vincent Enyeama, Lionel Messi would have had to clinch a 5th trophy.
Majid Bougherra voted for Messi , Ronaldo and Ibrahimovic. Finally, African breeders were also present. Stephen Keshi would have preferred to see Yaya Toure with the trophy before Ribery and Luis Suarez, while Sabri Lamouchi, coach of Ivory Coast has opted for Ribery, Ronaldo and his Yaya Touré.
Who voted for whom?
Didier Six (Ribery, CR7, Ibrahimovic)
Serge Akakpo (Messi, CR7, Ribery)
Etoo Fils (Yaya Toure, Messi , Hazard eden )
Didier Drogba ( Yaya Toure, messi , CR7 )
Daniel Cousin ( CR7 , Ibra , Ribery )
Vincent Enyeama ( Messi, CR7 , Ribery )
Stephen Keshi ( Yaya Toure, Ribery , Suarez)
Didier Deschamps ( Ribery , Cr7 , Ibra )
Cristiano Ronaldo ( Falcao , Bale , Ozil )
Messi ( Iniesta, Xavi, Neymar )
Casillas ( CR7 , Ribery , Robben )
Ibra ( Ribery , Messi , CR7 )
Lahm ( Ribery , CR7 , Messi )
Lamouchi ( Ribery , CR7 , Yaya Toure )
Seydou Keita ( Ribery , Messi CR7 )