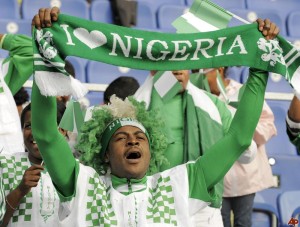 A game extremely crazy between Nigeria and Mozambique (4-2) on Wednesday at the African Nations Championship 2014. This is the beginning of the second day of group matches and the next round is coming through. Defeated in the opening, Super Eagles and Mambas had to react and the public has certainly not been disappointed.
All started spectacularly in this section as Mozambique opened the scoring right after 10 minutes of game. A wonderful goal by Dario Khan through a free kick from 35 meters that has nothing inferior to the missile of South African Kekana in the first match of the competition. Nigeria is sounded but immediately reacts by Ede (11th) who did not fail to bring back confidence within Eagles by netting the equalizer. It is open day in the defenses in this meeting; Rabiu Ali (13th) gives the advantage to the Super Eagles. A short-term advantage as Diogo defied the Nigerian defenders to score (19th).
[youtube]http://www.youtube.com/watch?v=VE03XF9Z-ww[/youtube]
Keshi and Nigeria bounced back!
Despite new opportunities, the score was 2-2 at the break. After the break, another goal. The referee calls for a penalty spot on a non obvious action. Rabiu Ali (54th) did not tremble before transforming the penalty to make his daily scoring a brace. Opportunities are still free on both sides. Nigerian attackers try to make the break very quickly and leave spaces behind. Mozambique very aggressive worry goalie Agbim and his teammates. But it is the men of Stephen Keshi who will have the last word at the end of the game with a strike by Imenger who came into play a few minutes earlier. Final score 4-2.
In the first meeting, South Africa and Mali drew 1-1. If Mozambique is eliminated, the first two places are far from being played. Bafana Bafana (4 points) will face Nigeria for a place in the quarterfinals on Sunday, while Mali will play Mozambique.
Compositions
Nigeria: Agbim ; Kwambe , Egweukwe , Odunlami , Eseme ; Shehu Uzochukwu Ali , Uzoenyi , Ede , Salami .
Mozambique: Soarito ; Monis Khan , Miocha , Miro Josemar , Manuelito , Kito , Diogo , Mario ; Maninho .