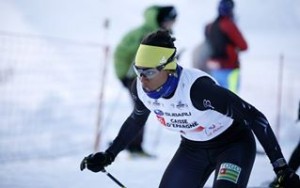 Mathilde Petitjean Amivi is little known by Togolese. And yet she is the barely 19-year-old girl who chose to compete for Togo at the 2014 Winter Olympic Games in Sochi, where she will be part of a delegation of three athletes.
However, a few months ago, there was no indication about that. But just getting in touch with the Togolese Ski Federation was enough for Mathilde make her choice.
"The Togolese Federation contacted me through Facebook in May because they had a plan to build a team for Sochi. I thought with my parents, but it is I who made the choice. Although my parents are fully in what I do, they never choose own my behalf," she says.
Born in 1994 in Niger of a French father and a Togolese mother (Odette Adzo), Mathilde Petitjean Amivi joined France two years later. Everything went very smoothly for her during the last two seasons as far as skiing is concerned. In the junior category 2, she was vice -champion of France. In Young 2, she won three titles of vice -champion of France in sprint, mass start and skiathlon (race that combines classical and technical skating).
With these titles, no doubt that Matilda is a great future skier who could wait for the right moment to move with the France team. But she will compete for Togo, knowing that she can never represent France. And this choice is strategic.
"The level is fairly raised in France; I could not possibly have the level of girls in the group A. These games allow me to gain experience for future years and get enjoyed," she confided.
More than a strategic option, Togo is also a choice of heart for the young skier. "Togo is a part of me: food, listen to the dialect … I am a mixture of both, I bathe in it!," enthuses Amivi (he Togolese name) proud to represent the country of her mother.
Will she lift up the Togolese flag in the delegation? Nobody knows yet. But Mathilde did not oppose it if the Togolese Ski Federation calls her upon. "If one offers me I would be honored, but I 'll never ask," says the graduate of the Nordic Ski Club in Pays Rochois.