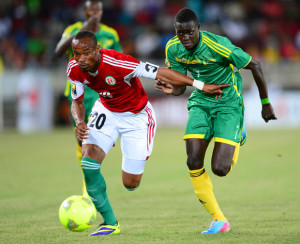 Bouncing match between Mauritania and Burundi on Saturday in Group D of the African Nations Championship. The Mourabitounes were removed after the end of extra time of the meeting on a beautiful shot from 30 meters. Final score 3-2.
And yet all started well for Mauritania opening the scoring in the 2nd minute by Sheikh Voulany. The men of Neveu found many opportunities without reaching fruition. Consequently, the equalization in the 12th by Abdul Sonny. This will be the score at the break thanks to goalie Souleymane Diallo of Mauritania that stops a penalty of Yamini Ndikumana.
The Mourabitounes out!
From the break, Mauritania tries to pack the game. Moulaye Bessam staggers opponents without happening to make a difference. Again, Burundi has been more realistic with Christophe Nduwarugira whose shot stunned the opposing goal. But Mourabitounes have resources. They restored parity through Taghiyoullah Denna. While it was heading for a draw, Yamini Ndikumana surprises everyone by an empowered shot from 30 meters ( 93rd ) .
Mauritania get out of the competition with two defeats in as many games. Burundi, with 4 points, take the lead in Group D from Gabon who had beaten earlier DR Congo (1-0).