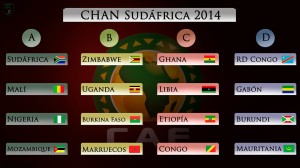 Saturday was the end of the second day of the preliminaries of the African Nations Championship. While the last day begins this Sunday, we offer you all the results and rankings and the first teams eliminated. Still no teams officially qualified for the quarterfinals.
In Group A, no hope for Mozambique with two defeats in as many games can say goodbye to the competition. Nevertheless, the other three teams will fight for the two tickets quarters. These include Mali (4 points) which face the Mambas, while at the same time Nigeria will challenge South Africa in the shock of the day. A draw will be enough for Bafana Bafana while the Super Eagles need a victory.
Group B is also undecided. Morocco, held in check by Burkina Faso 1-1 could not get away. The Atlas Lions have only 2 points and will clash on Monday Uganda who lead the group with 4 points. On the other hand, the Stallions will necessarily beat Zimbabwe if they want to move forward.
Ethiopia and Mauritania already out!
Ghana certainly is undefeated but has not yet qualified. With 4 points, a draw Tuesday against Ethiopia, already eliminated with two defeats in as many games will be enough for them to pass. In the other match, the winner between Congo and Libya will be guaranteed to go in the quarters.
In Group D, Mauritania surrendered after their second defeat Saturday against Burundi (2-3). The Intamba have the same points as Gabon (4) and are leading the group. The last day will be decisive with DR Congo on trap with 3 points.
Results and standings
Group A
South Africa 1 Mali 1
Nigeria 4 Mozambique 2
1st: South Africa 4 pts , 2nd Mali 4 pts, 3rd Nigeria 3 pts , 4th Mozambique 0 pt
Group B
Uganda 0 Zimbabwe 0
Morocco 1 Burkina Faso 1
1st Uganda 4 pts, 2nd Morocco 2 pts, 3rd Zimbabwe 2 pts , 4th Burkina Faso 1 pts
Group C
Ghana 1 Libya 1
Congo 1 Ethiopia 0
1st Libya 4 pts ; 2nd Ghana 4 pts ; 3rd 3 pts Congo , 4th Ethiopia 0 pt
Group D
DR Congo 0 Gabon 1
Mauritania 2 Burundi 3
1st Burundi 4 pts , 4 pts 2nd Gabon , 3rd Congo 3 pts, 4th Mauritania 0 pt