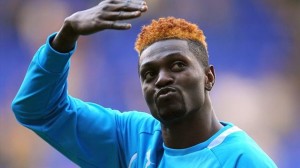 Sunday, Emmanuel Adebayor was back in the spotlight. The Togolese striker and his team of Tottenham move to Swansea for the 22nd day of the Premier League. Having become the backbone of the Spurs since his comeback, the former Gunner is eagerly awaited.
In a large interview with Geoff Shreeves (Beanyman Sports), Adebayor talks about his difficult 2013 including the death of his brother without forgetting his shelving by Andre Villas- Boas and his renaissance. The Togolese star admits he had nothing against the Portuguese coach but pulls out all the stops to win on the field for his brother. Extracts.
"I love playing football. I was born to play football. And when you do not get the chance to you do not have peace of mind. 2013 has been a difficult year. Already in 2005, it was difficult because I lost my father but last year , it's worse. When they call you after training to tell you that your brother is dead, this is painful."
"We should not judge Andre Villas- Boas. He wanted the best for his team. He made mistakes, we all make mistakes but I think it's a great man. I 'm not here to judge him. I'm not a one who looks back. All this happened. I wish Andre much luck. But for me, 2014 will be better than 2013 for sure".
"I became a man when my brother died. When I went back for the funeral, I had to organize everything while I'm the little brother. There, I realized what I was becoming in the family. I am one of the most popular people in Togo and it is often very difficult to wear. Now I give 100% of myself on the ground".
The full interview video here!