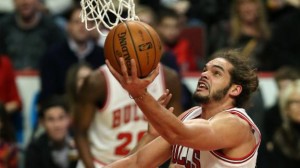 It is a strong Joakim Noah who led the Chicago Bulls to their 19th victory of the regular season last night. The franchise of Illinois dominated the Philadelphia 76ers, 103-78.
Just like Michael Carter-Williams (10 pts to 5/22 shooting) the Sixers have not found the solution facing the Bulls recovered defense. Jooks made the best match of the stat sheet with 21 points, 16 rebounds, 3 assists, 2 steals and 4 cons, in 31 minutes of game -39 in the assessment-
"I feel good, I feel good about short, I feel very comfortable, I have not felt like this for a long time," said the leader of the Bulls. Coach Tom Thibodeau is happy with his pivot, "Nobody plays as well as Joakim Noah now."
For this seventh win over nine games in Chicago, the Franco-Cameroonian pivot was well supported by Carlos Boozer (15 pts, 13 rebounds) and DJ Augustin (19 pts, 8 wt, off the bench).
[youtube]http://www.youtube.com/watch?v=lachVX3YjAk[/youtube]