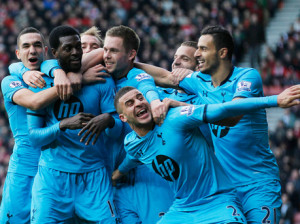 New high class performance for Emmanuel Adebayor in the Premier League on Sunday. The Togolese striker has splashed his talent in the meeting Swansea – Tottenham (1-3) counting for the 21th day of the Premier League. A brace, his second in four games since his comeback at Spurs.
Tim Sherwood was right to entrust the keys of his attack to Emmanuel Adebayor. Has now scored five goals after seven league matches this season as many as in all of last season. So it is the former Gunner who scores in the 35th to send the Spurs at the break with the advantage.
Dembele forgot Adebayor!
Tottenham control the game. And on an overflow of Walker, Chico Flores deceives his own keeper. Swansea is on the verge of collapse. At the 70th, Dembele and Adebayor were in front of Tremmel, the Swans goalie but the Belgian forgot the Togolese and misses the goal. Adebayor was overtaken by anger but recovered quickly.
Danny Rose tumbling left and this time served Emmanuel Adebayor who could not a beautiful finish to make it a brace. The score reduction by the Ivorian Wilfried Bony will be anecdotal. Final score 3-1 and 5 straight wins out for Tottenham.
[youtube]http://www.youtube.com/watch?v=VdGfsAxXTIk[/youtube]
[youtube]http://www.youtube.com/watch?v=Q2mL4_rTyoE[/youtube]
[dailymotion]http://www.dailymotion.com/video/x19yh7j_adebayor-goal-swansea-city-0-3-tottenham-hotspur-epl-19-1-14_sport[/dailymotion]