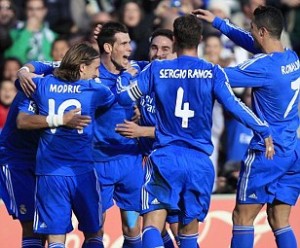 Festival by Real Madrid in La Liga on Saturday against Betis Sevilla (5-0). The Merengues have totally dominated the Andalusian club that they started wrapping from the quarter-hour with a brimming shot from Cristiano Ronaldo. The Portuguese Ballon d'Or 2013, elected last Monday scored his first league goal since his coronation.
Ronaldo is then imitated on a free-kick by Gareth Bale who scored his 8th goal of the season. Karim Benzema was also about his 100th goal in the colors of Real Madrid, making the score 3-0 at the break. Of the break, Di Maria sends a new missile in the Betis goal before Morata who just came into play closes the party.
Real Madrid comes above Barca and Atletico before Sunday games.
[dailymotion]http://www.dailymotion.com/video/x19we66_real-betis-0-1-real-madrid-goal-cristiano-ronaldo_sport[/dailymotion]
[dailymotion]http://www.dailymotion.com/video/x19wfo4_goal-gareth-bale-real-betis-0-2-real-madrid-18-01-2014-highlights_sport[/dailymotion]
[dailymotion]http://www.dailymotion.com/video/x19wh63_goal-benzema-real-betis-0-3-real-madrid-18-01-2014-highlights_sport[/dailymotion]
[youtube]http://www.youtube.com/watch?v=v0dhiBmiG-k[/youtube]
[youtube]http://www.youtube.com/watch?v=lGJ-nk2rB90[/youtube]