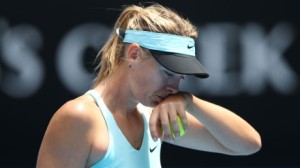 After the thunderclap Sunday with the elimination of Serena Williams, the second round of the Grand Slam in Melbourne is also fatal to Maria Sharapova. Russian, 3rd player in the WTA rankings, was beaten in 3 sets by Dominika Cibulkova, 3/ 6, 6/ 4, 6/ 1. The Slovak, seeded No. 24, will play a place in the semis against Simona Halep of Romania femme fatale of Jelena Jankovic , 6/ 4, 2/ 6, 6/ 0 .
Sloane Stephens could not take revenge against Victoria Azarenka. Eliminated in the semifinals of the Australian Open last season, the American was again sent out of the competition by the Belarusian. For their second altercation on the WTA tour, Azarenka and Stephens crossed the racket at the stage of knockouts. A game that has been folded in two sets, 6/ 2, 6 /3 1h 30 min.
Double defending champion Victoria Azarenka qualifies for the quarterfinals and is likely win her third straight coronation after the elimination with Serena Williams and Maria Sharapova.