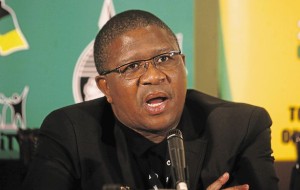 What's wrong exactly? South Africa since their Afcon coronation in 1996, have not proved good in any African competition. New illustration this weekend with the elimination of the Bafana Bafana from the group stage of African Nations Championship 2014.
A competition that the Rainbow Nation is hosting since January 11. A stinging 3-1 defeat Sunday against Nigeria has destroyed the quarterfinals chances of South Africa. Unrecognizable in the field even though they had a good start in the competition with a 3-1 victory over Mozambique certainly minnows and eliminated after two games.
Towards a new name for Bafana Bafana?
This drives the South African sports minister crazy. "We've never won anything, we are the laughing stock of Africa," said Fikile Mbalula. South Africa which nevertheless has one of the best leagues in the continent with highly paid players, are struggling to shine.
Frustration is also high on the side of the SAFA (South African Football Association), whose president Danny Jordan is considering changing the name and color of the team. Exit soon Bafana Bafana? A reminiscent idea already issued in 1995 at the Rugby World Cup as the national team was very bad. It took the intervention of Nelson Mandela as the Springboks keep their name and a few months later won the trophy.
Who to prevent the South African football from descending into hell?