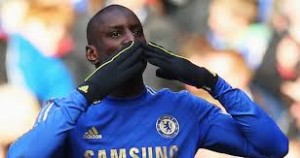 Discussions about a possible departure of Demba Ba are closed! The Senegalese striker remains at Chelsea. Verdict of Blues manager Jose Mourinho.
Chelsea clinched a convincing victory yesterday against Manchester United ( 3-1) thanks to a hat-trick by Samuel Eto'o. A tasteful victory but also bitter, as the club lost Fernando Torres on injury. Touched in his left knee a few minutes off the bench, Torres will miss several weeks if could rely on the words of coach José Mourinho who intends to rely on Demba Ba to compensate the absence of the Spanish international .
"We lost Fernando for a few weeks since he is suffering an injury in the lateral ligament (knee), and this is why we have Demba Ba in the team, said the Special One at the post -match press conference. We decided not to open the door for a departure as he is a good player and we need him," Said the Portuguese coach.
"Demba and Samuel Eto'o will be our only strikers available in the coming weeks, he says , and I hope they come out well. It's the time of Demba. It's a shame because Torres was in good form, but it's the time of Demba. He had a fantastic week of training; it was very difficult for me to leave him on the bench because he has done a very, very good job. The next matches will be for Demba and Samuel."