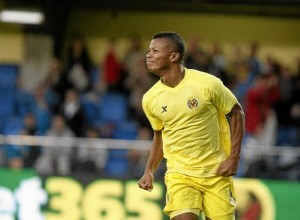 It was a weekend very rich for African goal scorers in Europe. Samuel Eto'o was author of a sensational hat-trick for Chelsea, while the Togolese Emmanuel Adebayor still lifts Tottenham up. Overview.
Spain (D20)
A week after equaling the record of goals scored by a Nigerian in La Liga, Ikechukwu Uche has done it again with Villareal. The Nigerian striker opened the scoring for his team's 2-0 victory against Almeria. He withholds the record of goals by a Super Eagle in the Spanish league with 12 goals.
Italy (D20)
Emmanuel Agyemang- Badu thought he had done the hardest while putting Udinese ahead 2-1 in the clash against Lazio. Finally players from the capital club will resume on top for a 3-2 final victory over the club of Friuli.
France (D21)
Third goal of the season for Siaka Tiene. Ivorian defender long injured participated in the beautiful 2-0 victory of Montpellier over Sochaux on Saturday. The former Valenciennes had just come in.
Sporting Bastia can say thank you to Adama Ba. The Mauritanian striker was the only scorer in the 1-0 victory of Corsicans over Bordeaux. A good result for the club of other Africans namely Romaric, Boudebouz and Yatabaré .
England (D22)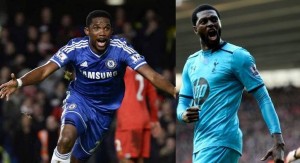 Yaya Toure has resumed his old habits. His quiescence in Cup in the week for a back injury seems to have done good to the African Ballon d'Or 2013. Back strong Saturday in Premier league, the Ivorian scored a goal in the 4-2 victory of Manchester City over Cardiff. This is his 11th league goal of the season.
In Tottenham, we now have only one name in the mouth: Emmanuel Adebayor. The Togolese striker is in grace and shows it every weekend in the field. That was the case Sunday at the meeting Swansea-Tottenham (1-3). The former Gunner scored twice. In the opposite side, Ivorian Wilfried Bony saved the honor for his club by netting once.
The leading African striker on fire this weekend, Samuel Eto'o. The Cameroon striker scored a hat-trick for Chelsea in the Premier League shock against Manchester United (3-1). It is now sixty years since a Blues player has achieved a hat-trick against the Red Devils.