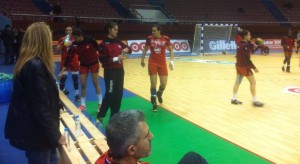 The women's team of Tunisia bowed to their counterpart from Angola in a group match of the African Cup of Nations Handball taking place in Algiers.
The score was tight between the teams in the first half. Carthage Lionesses finished the first half with a goal down (18-19).
The second half was fatal for Tunisians. After a few missed opportunities, they bowed with 6 points difference (19-25).
A defeat that created no great consequence since Tunisia is qualified and will play Wednesday the quarter-finals against the third in Group A.