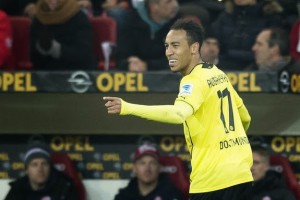 The Bundesliga will resume this weekend. Stopped for the holiday season, the German championship will just resume on Friday. And during the truce, clubs held friendlies to keep their players fit. Like Bayern Munich defeated by Red Bull Salzburg 3-0 for their last game.
Disappointing fourth in the Bundesliga at the end of first leg matches, Dortmund crushed Duisburg 6-1 in a friendly last night. Fourth leading scorer in the Bundesliga with nine goals, Aubameyang opened the scoring in the seventh minute with a flat right foot.
Marsupials will need an effective Aubameyang for the second half of the season and finish second as promised by coach Jurgen Klopp. Borussia face Augsburg on Saturday.
[youtube]http://www.youtube.com/watch?v=BFPPKd3t94Q[/youtube]