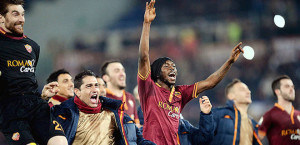 AS Roma – Juventus was the shock of the quarterfinals of the Italian Cup on Tuesday. And it was the Romans who won 1-0 thanks to a goal by Gervinho.
The Ivorian in a very good form since his arrival in the Italian capital showed a new range of his talent. Very impressive, he is the only scorer of the match with such a gesture of karate. This recall a player who relishes these types of volleys: Zlatan Ibrahimovic.
This goal was a gift to ignite the Olympic Stadium which celebrated their Ivorian scorer.
View the Goal!
[dailymotion]http://www.dailymotion.com/video/x1a316q_goal-gervinho-roma-1-0-juventus-21-01-2014-highlights_sport?start=4[/dailymotion]
And the ignition of the stadium!
[youtube]http://www.youtube.com/watch?v=v84K4AyoCwE[/youtube]